Just the Flight's top three unusual beaches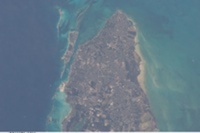 With the summer just around the corner, many holidaymakers will be preparing to head abroad and indulge in some beach life and sunshine. Whilst the quintessential beach is one of palm trees, blue waters and golden sand, there are a few unusual beaches around the world that are ideal for exploring.
Punaluu Beach, Hawaii
For those heading to Hawaii and iconic Honolulu, one place not to miss is Punaluu Beach. This beach consists of sand made from ancient volcanic lava and is therefore jet black in colour. Combine this with regular sightings of curious Hawksbill turtles and the beach makes for a great place to visit, even if just for some photography.
Pink Sands Beach, The Bahamas
As its name suggests, Pink Sands Beach is unusual as its sand is pink rather than the customary white or golden. The crushed shells of tiny pink coral insects have created the three-mile stretch of sand. For those heading to a luxurious stay in Nassau, heading to this beach makes a great treat.
Hot Water Beach, New Zealand
For tourists to Auckland, heading to Hot Water Beach allows visitors to indulge in their own spa. Hot springs filter up through the sand at low tide. By heading to the beach with a bucket and spade, holidaymakers can dig their way down to the rising springs and soak in the beautiful warm waters.