Enjoy an unusual weekend break in Sydney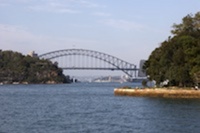 For British holidaymakers travelling to Australia, Sydney is likely to be high on the destination wish list. However, visitors do not only need to indulge in the city itself, as the area has a huge variety of beaches, mountains and islands to explore.
Though the Sydney Opera House and Harbour Bridge are iconic sights that must be seen, there is much to do around Sydney without being in the city itself. Whilst Sydney's Taronga Zoo is great, nearby Featherdale Wildlife Park is a great alternate destination where visitors can see ostriches, wallabies and even cuddle a koala. For those wanting to explore Australia's wildlife and scenery in more depth, the Blue Mountains are a must visit. Here, small bed and breakfasts are ideal for staying in, and there are stunning sights across rocky mountains and swathing forests.
For beach loving tourists, Manly Bay is a top spot for surfing and is ideal as an alternative to bustling Bondi Beach. Meanwhile, heading to the Hunter Valley provides the promise of wineries and relaxation, allowing tourists to enjoy some of the Australia's highly regarded wines. Whilst a weekend in Sydney can be full of bustling city life, there is far more to see beyond the metropolises fringes.