Yachting enthusiasts encouraged to visit Lanzarote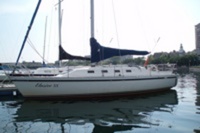 Spain has always been a popular destination for British individuals wanting to indulge in a Mediterranean climate, long stretches of coast and cheap holidays. However, the country's islands offer far more than the traditional beach retreat. For those wanting a top yachting trip, Lanzarote is ideal.
With April proving very wet, many people in the UK will be more encouraged than ever to start looking to the summer months and their annual getaway. For those who want to sail the seas and enjoy scenery from an entirely new perspective, yachting in Lanzarote is perfect.
Lanzarote is known for its volcanic peaks, which help subdue harsh winds rolling in from the Atlantic. These winds make for ideal sailing conditions, offering enough of a breeze to fill sails and guide luxury yachts through beautiful waters. However, the subdued weather avoids blustery conditions, which can scare even the hardiest of sailors.
If a yachting and adventure retreat is wanted this year, then the warm waters of Lanzarote are a great place to head to. With sailing being affordable here, and many miles of glorious beach and coastline to explore, a surprising holiday in this traditional spot is well worthwhile taking advantage of.