Just the Flight's three top Floridian attractions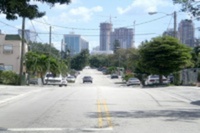 Florida continues to be one of the most popular states in America for holidays. There are many top attractions in Florida for British travellers to enjoy, whether it's interesting scenery or thrilling rollercoaster rides. Here are Just the Flight's top three options for visitors wanting fun in this sunny state.
Miami
Miami is one of the most cultural cities in Florida, and has an eclectic mix of American and Latino traditions. There are a huge number of attractions to explore, including Zoo Miami, Miami Children's Museum and Miami Museum of Science, in addition to enjoying South Beach and the art deco architecture.
Theme parks
Florida is well known for its theme parks, and those travelling to Orlando will be able to enjoy Disney World and Universal for starters. With action packed rollercoasters, some slightly more gentle and themed rides, and entire parks packed with movie history, Orlando's theme parks are a must for any family.
The Everglades
Another iconic feature of Florida is the Everglades National Park. Covering an area of 2,350sq miles, the park is home to some incredible wildlife, including black bears, manatees and alligators. Hiking, camping and canoeing are all available, making a trip to this location unforgettable.