Explore engineering with the world's best bridges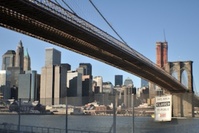 Bridges are a stunning feat of engineering, and it can often be difficult to try and understand how such large expanses of space were joined by these beautiful constructions. For those who loving nothing more than some stunning architecture on their holiday, there are a few bridges around the world that really are must-sees.
Sydney
One of the most famous bridges in the world has to be Sydney's Harbour Bridge. This bridge opened in 1932 and has become one of Australia's most famous landmarks. Those who are brave enough can even go on a climbing tour and scale its heights, offering stunning views across the city.
New York
Built between 1869 and 1883, the Brooklyn Bridge connects the New York boroughs of Manhattan and Brooklyn. When it was officially opened in 1903 it stole the record for the longest suspension bridge in the world for that time, and it has since become a major tourist attraction.
Venice
Venice really is a city of bridges, but there is one particular piece of engineering that the Grand Canal is most famed for: the Rialto Bridge. This elegant construction was completed in the late 1500s and was named after it becoming the gateway into the Rialto market.