Explore Penang for an extraordinary getaway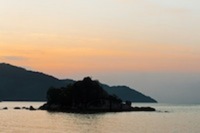 Many tourists who travel to the East may not consider Malaysia as a top spot, but this beautiful country has a lot on offer, especially in the northwest city of Penang. Here, Chinese, Indian, Malay and European cultures clash with vibrant colour, offering a feast of traditions, cuisines and sights for travellers to discover.
One of the most popular reasons to visit Penang is its cuisine, and in addition to the food courts and cafes, the four areas of Tanjung Bungah, Georgetown's Red Garden, Gurney Drive and Batu Ferrenghi's Long Island offer food of many varieties. From pizza and burgers to Indian roti canai and Penang char kuey teow, there is more than enough to sample for foodies.
Penang also has a lot on offer in terms of activities and entertainment, and travellers to this city can indulge in karaoke, jet skiing, rock climbing, browsing night markets or enjoying traditional massages on the beach. There are also multiple temples to explore, such as the Chinese Kei Lok Si Temple, offering visitors to the region a glimpse into the city's rich cultural and religious past.
For those wanting a vibrant break, Penang has more than enough to thrill. With food, culture and traditional architecture overflowing from this city, travellers will want to return time and time again.