Shanghai Airlines Flights and Routes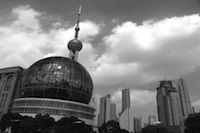 Shanghai, China-based airline, offering domestic flights within China, as well as flights to international destinations, some of which are operated by other airlines under codesharing agreements. The airline's network of destinations is expanding, and it is due to join the Star Alliance in December 2007.
SkyTeam is an extensive global network that offers greater access to benefits for passengers, by creating an alliance between member airlines. Stand-alone airlines cannot match the airline alliance's ability to provide more connectivity, more flights and more destinations to business and holiday travellers alike.
With the addition of Shanghai Airlines (SAL) and its parent company, China Eastern, SkyTeam will add 32 destinations from Shanghai in the near future. SAL operates a fleet of 60 aircraft with a total of 170 domestic destinations and 13 regional and international destinations.
In return, customers of Shanghai Airlines will benefit from the merger of all goods and services spanning the global network. Passengers will enjoy redemption of frequent flyer miles regardless of carrier, priority passenger service, access to more than 420 VIP lounges worldwide and elite recognition from SkyTeam's member airlines.
Although Shanghai is China's first commercial airline, the parent company, China Eastern, is the country's first airline to offer shares in the international market. Shanghai and China Eastern merged in February of 2009.
The entry of Shanghai Airlines and China Eastern to SkyTeam makes the global alliance the dominate player in the Greater China region. Other SkyTeam members include Vietnam Airlines, TAROM, Korean Air, KLM Royal Dutch Airlines, Kenya Airways, Delta Air Lines, Czech Airlines, China Southern, Alitalia, Air France, Air Europa, Aeroméxico and Aeroflot.
The prestige of having Shanghai join SkyTeam is enormous with the commercial airline's numerous accolades and awards, including the first prize for flight punctuality and first award in the China Aviation Customer Satisfaction Annual Survey.