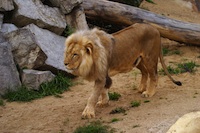 Book cheap flights to Angola by selecting an airport destination in Angola below. Compare flights to Angola from over a hundred airlines worldwide and book online with us today.
Filled with Portuguese architecture, ample wildlife, and miles of beautiful coastline, the country of Angola remains a relatively undiscovered land. It has suffered decades of civil war but has emerged from many of those difficulties.
Located in the southern part of Africa, Angola rests between the Democratic Republic of the Congo and Namibia, and borders the South Atlantic Ocean. Forceful rivers, thick forests, and elevated plains, combined with the Nambie Desert sands, define the country's landscape.
Visitors to this part of Africa will experience a variety of unique wildlife including the Palanca Antelope, which is native to this part of the world. The spectacular Calandula Waterfalls, which are located in Malanje, are especially impressive at the end of the rainy season. Along the coast, visitors can indulge in the many forts in existence including the 1789 Fort Sao Miguel, which was built as a slave depot to the Portuguese community.
There are more than 190 airports in the country, meaning airport selection depends largely on the desired destination. Angola's major international airport is Luanda Fevereiro, which is situated in the country's capital city.
Major industries include diamonds, gold, brewing, textiles, and tobacco products. Shopping for items unique to Angola will include local handicrafts of local cloths and jewellery. It is best to shop for these items inside the major cities such as Luanda as such markets are virtually non-existent in the surrounding areas.