Cheap Flights to Canada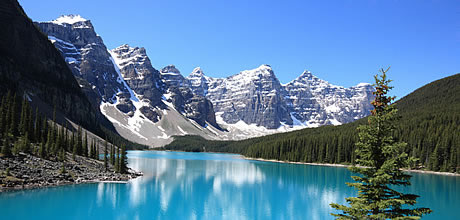 Canada's ten provinces stretch from Newfoundland in the east, to the Yukon Territory in the west, and from Ontario in the south reaching far into the Arctic Circle. This vast country is home to vibrant cities and historic villages, stunning coastline and striking countryside. Canada's spectacular mountains are a magnet for skiers. The country plays host to a rich array of wildlife. The most difficult decision to make when booking a flight to Canada is – which destination to choose!
Calgary
This western-Canadian city, set against the backdrop of the Rocky Mountains, is known as the "Heart of the New West" Calgary offers world-class amenities, dining and accommodation, but the heritage of the 'old west' still thrives. Attractions include Calgary Zoo and the historic Heritage Park. After a day's shopping in the city's boutiques, why not visit the theatre or the opera? For lovers of the great outdoors, there's the opportunity to experience horse-riding and white water rafting. Calgary hosts many sporting events, but is perhaps best known for the Calgary Stampede, each July, a celebration of professional rodeo and country and rock music.
Halifax
Capital city of the province of Nova Scotia, Halifax combines traditional with trendy. The compact downtown area offers plenty bars, restaurants and nightlife, complemented by many seafood restaurants and a casino on the waterfront. The city has a rich history: the hilltop Citadel is the most visited national historic site in Canada; the 17-acre Victorian Public Gardens are another popular attraction. The city also has a strong connection with the Titanic, exemplified by the Maritime Museum of the Atlantic. Many booking flights to Halifax will be exploring Nova Scotia: its 4,500 mile coastline is dotted with scenic fishing villages and beautiful beaches.
Montreal
Montreal is the capital of the French community in Canada, it's a vibrant city of old and new.  Overlooked by Mont-Royal, spectacular skyscrapers tower over the many churches and historic buildings.  Montreal may be traditional but it is an ideal place for 'fine' too. As you would expect from a region with a French flavour the shopping and the food is excellent, little boutiques line the streets.  There's a huge selection of local and international cuisine with wonderful venues dotted round the city.  There are a lot of sporting activates too that can be experienced whilst your stay here ranging from white water rafting, an experience not to be missed to jet boating! All in all this will definitely be a holiday with old and new and a totally enjoyable one, so don't hang back, book your Canadian holiday  with a touch of France today.
Toronto
Toronto, being the 5th largest metropolis in North America and the largest in Canada has a richly deserved reputation as a friendly and relaxing holiday destination.  Toronto has something for everyone for everyone,  From Greektown to Chinatown and Little Italy to the entertainment district, the cosmopolitan nature of the city means you'll feel right at home wherever you choose to roam! The centre of Toronto offers and amazing range of activities and destination. To get your bearings you could pop on to a hop on hop off tour to take in the sights.  A huge range of shops ensures you will get will have an excellent retail therapy day or days!!  There are great family days out too from a safari round the Metro Zoo to the theme park  which has its own children's village, concerts cafes and pubs.  And off course Niagara Falls. For eating out, there are more than 7000 restaurants waiting to cater to your every desire offering a variety of cuisines from around the world.
Vancouver
If there was a city that had it all, its Vancouver!  The city is surrounded by water and mountains, and the mix of warm weather, beaches and great entertainment make it great fun for everyone. Whether you prefer to be on the beach beside the ocean having picnic in one of the many parks, enjoying the stunning views from the mountains or exploring downtown, this has got to be an experience to be believed. Natural beauty is at its peak here in Vancouver, it really does capture everything from rainforest to a wildlife park, there will definitely be enough here to keep the whole family young and old amused. Vancouver is remarkable for shopping with a fantastic range of superstore and quirky boutiques.  The little eateries here are amazing too, you will definitely find a little bite here for each and every taste bud.  The nightlife, there will be something to suit everyone from operas to bustling disco to cosy little pubs, you won't be left with nothing to do as night falls. Its definitely going to be a holiday with the beach atmosphere rolled into the busting city life.  So go on and get the bags packed for one of the most enjoyable holiday you will ever experience.