Cheap Flights to Florida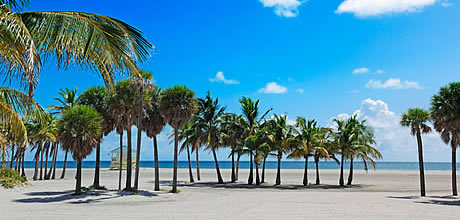 Embark on a flight to Florida and explore this remarkable country. Famous for its man made attractions including Walt Disney Theme Parks and Universal Studios. Florida also offers much more, including strolling around Miami, wildlife trips to the Everglades and excellent fishing trips of Florida Keys.
Fort Lauderdale
Fort Lauderdale, known as the "Venice of America," is a city located in Broward County, Florida. Tourists fly to Florida for Fort Lauderdale blue wave award-winning Atlantic beaches, and water sports activities, including surfing, sea fishing, water skiing, sailing, scuba diving, and surfing.
Miami
A holiday in Miami, Florida with its world famous beach, art deco architecture, the Everglades National Park and lively party atmosphere is a great alternative to Orlando. Miami is the perfect holiday destination so book your flights to Florida to combine sun, fun, culture and nightlife. Don't miss the nearby Florida Keys, Little Havana and South Beach too.
Orlando
View flights to Florida, in particular Orlando the gateway to Walt Disney World, Epcot Centre, Universal Studios, Kennedy Space Centre, Sea World, Wet and Wild and countless more theme parks and attractions. It's great for the kids (and the big kid in you too!) and great year round weather makes Orlando the number 1 holiday destination in the UK.
Tampa
Close to the holiday resorts of St Petersburg and Clearwater. Tampa Bay is close by to Orlando's Walt Disney World. Tampa also has a popular tourist attraction, so book a flight to Florida and visit Busch Gardens African themed entertainment park. One of North America's premier zoos, featuring more than 2,700 animals, and action packed rides and world class shows for both children and adults alike.