Cheap Flights to New Zealand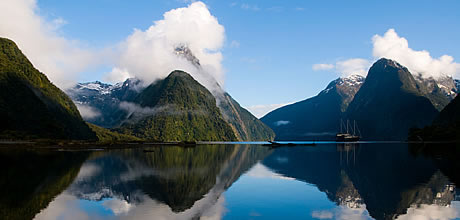 Spectacular scenery and numerous diverse cultural attractions are on the menu for travellers flying to New Zealand. This temperate country boasts exotic flora and fauna not found elsewhere in the world, as well as a rich history that is well-represented in the region's museums and galleries. New Zealand is a favourite destination for backpackers who have exhausted the delights of neighbouring Australia and its cities provide much in the way of entertainment and shopping.
Auckland
Holidaymakers catching a flight to Auckland will find that they are ideally placed to enjoy the best of both beach and city life. The city's unique positioning on the Hauraki Gulf means it has two harbours on two bodies of water – and that everyone lives close to its sandy shores. As an urban area, Auckland offers much in the way of bars, restaurants, shopping and cultural attractions, as well as numerous special events.
Christchurch
Christchurch is the largest city on New Zealand's South Island and in the past has been used as a base for those exploring the Antarctic. These days, travellers hopping on a flight to Christchurch will find that it is host to numerous cultural attractions, including the cathedral that it is named for, various museums and a number of nature and wildlife reserves.
Wellington
New Zealand's capital offers everything the average tourist might expect. Holidaymakers flying to Wellington will discover a wealth of things to see and do. Museums, cinemas, galleries, operas, festivals and a busy music scene make the city one of the world's foremost destinations for lovers of the arts. By night, Wellington lights up spectacularly and provides eating and drinking spots to cater for all tastes.