Wellington Cheapest Fares
The lowest fare found to Wellington (WLG) was £801 with Emirates. The fares shown here are the lowest flight prices to Wellington obtained in actual searches by Just The Flight customers. To search and book flights to Wellington in 2022 and 2023, please enter your requirements and click the search button above.
Wellington Fringe Festival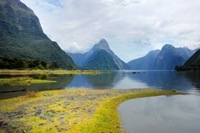 Wellington welcomes The Fringe every year, celebrating its quirky, artistic side.
The Fringe is an annual celebration of the arts in Wellington. Sponsored by a number of corporations, it is also welcomed by the mayor of Wellington. The event allows artists to show their work and the public to come see, explore and be a part of a slew of creative endeavours.
Many of the featured events for The Fringe are unconventional, such as the Rock Paper Scissors Battle. The event brings together theatre, comedy, music, dance, and visual arts for a quirky blend of events and showcases. Performers put on shows about everything from life and death to David Bowie and karaoke. The performances also bring genres, from hilarious comedies to serious and sombre pieces to light-hearted slice of life features.
The festival spans several days and brings in a lot more than just theatre and performance art. There is also plenty of music on tap, from local Wellington bands to musicians from around the world. The event also features a number of dance performances each year. Some take the form of experimental and artistic ventures, while others are more fun and energetic performances.
The Fringe had been running for decades and plans to keep on encouraging and showcases Wellington's artists. Many of the acts are on the cutting edge of art and culture, but all are fun and beautiful to watch.