Isle Of Man Cheapest Fares
The lowest fare found to Isle Of Man (IOM) was £49 with EasyJet. The fares shown here are the lowest flight prices to Isle Of Man obtained in actual searches by Just The Flight customers. To search and book flights to Isle Of Man in 2021 and 2022, please enter your requirements and click the search button above.
The Isle of Man Offers Adventure and Natural Beauty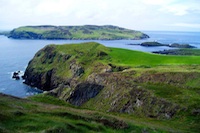 Anyone seeking a destination that offers solitude, a chance to get in touch with nature or just the opportunity to get away from the hustle and bustle of city life does not need to travel to the ends of the Earth on their holiday or break. Any time of the year is a good time to head over to the Isle of Man, where a laid-back lifestyle and the beauty of unspoilt nature await.
The Isle of Man is an ideal place to enjoy miles of sand and sea along with all the tranquillity anyone could ever need. Each town on the island has its own attractions, making it a unique destination choice for a low-key sort of holiday.
The island itself is really quite different from the rest of the United Kingdom. Some areas present visitors with a colonial touch, while other parts reflect more modern, international influences. No matter what parts of the island holidaymakers choose to visit, they can expect to feel right at home and experience a quaint village ambiance.
For a small island, the Isle of Man has a full year round slate of activities. A few of the highlighted events include the Manx Grand Prix, the Commonwealth Youth Games, Tynwald Day, the Isle of Man Bowling Festival and the Festival of Choirs. Whether simply looking for a long weekend break or a complete holiday experience, the Isle of Man will not disappoint.