Just the Flight's Guide to Jersey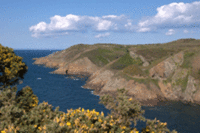 Of all the Channel Islands, Jersey is the largest and perhaps most appealing to visitors from all over the world. The capital, St. Helier, is a busy shimmering town of much steel and glass with a high number of business people concentrated there. But apart from its business side, Jersey is a beautiful island with more than 48 miles of coast. With rugged cliffs, sandy beaches and much peace and tranquillity to be found, Jersey is a great place to relax on a short break or longer holiday.
Jersey, rich in history and culture is the most popular of the Channel Islands. It lies in the Bay of Mont St. Michel, and is therefore quite close to France. The first human activity on the island dates back about 250,000 years when bands of nomadic hunters used the caves at La Cotte de St. Brelade as shelter while hunting mammoth. There are quite a few ancient ritual burial sites known as dolmens scattered throughout the island.
Visiting the area any time of the year is a wonderful experience, though if you don't like the heat, you may wish to avoid booking flights to Jersey in the high summer. However, the warmer months do allow for wonderful times on the beach. The winter is also a pleasant time to visit as the temperatures are quite mild, usually around 10°C.
Getting to Jersey is not difficult at all, especially via plane. You can find cheap flights to Jersey straight from London, which is just about an hour's flight away. However, there are more than 25 flights to Jersey from other UK regional airports each and every day. Many airlines offer great deals and specials during both the on and off-seasons.
Love to walk? Jersey is the place, with a wide variety of terrain on offer for your walking pleasure. Whether you enjoy long strolls along the coast or something a little more challenging along the cliffs, Jersey is a walker's delight. If walking is not your cup of tea, the coastline is ideal for water sports and sunbathing. Simply enjoying the great outdoors is certainly possible during any stay in Jersey. For nature lovers, Jersey is also home to the Durrell Wildlife Park. A really good time to visit is during the Battle of Flowers Parade; a carnival spectacle with associated events.
Though Jersey is rich in history, there is nothing dry or dusty about this Channel Island. Exploring the island will allow you the chance to understand its heritage through mixing the past and present. There are some really interesting sites to visit, including magnificent castles located throughout Jersey. Plan a tour and get a glimpse of true history. The hands-on museums and adventure parks will add an element of fun and education to your adventure.
One of the most interesting castles to visit is Mont Orgueil, a superb medieval building. After that, head over to Hamptonne and experience a reconstruction of a 17th century farming community, complete with all the gossip of the day. While you can quickly step into centuries past, you can also explore more recent historical periods.
Jersey was heavily affected by its World War II Occupation that lasted for five years - the island was liberated in 1945. You should make a visit to the Jersey War Tunnels - a network of tunnels created to protect German troops from bomb attacks by the Allies. There was a hospital inside the tunnels that was left virtually intact when the invaders left. In 2001, the tunnels were transformed to become an interactive visitor experience.
For lovers of the outdoors, Jersey is a great place to be. The networks of Green Lanes, which have a speed limit of 24kph, are ideal for cycling enthusiasts. If you can't bring your bike with you, there are several businesses from where you can rent them. There are also plenty of water sports to enjoy. Because Jersey is an island, this makes total sense! Spend your days swimming, water skiing, windsurfing, and surfing. Some of the best beaches include those along La Roque Point; St. Helier will provide the best swimming while St. Ouen's Bay and St. Brelade's Bay offer the most facilities for holidaymakers.
Seafood is also a prominent aspect of any trip to Jersey. Do not miss out on the fresh seafood available at the quality pubs and starred restaurants throughout the island. Whether you want a simple dish of calamari or pan-seared salmon, or a cordon bleu meal, Jersey can provide it. If you prefer to catch your own dinner, try some of the great fishing that Jersey has to offer. On the northeast coast Bouley Bay offers some of the best fishing in the area.
Whether you want a quiet respite from a busy life or an action-packed adventure, you will find it on the island of Jersey. No matter what time of year you choose to visit, the island will captivate you with its history and charm, and the picturesque vistas off the rugged cliffs overlooking the sea. Don't hesitate; book your flight to Jersey today.