Cheap Flights to The Caribbean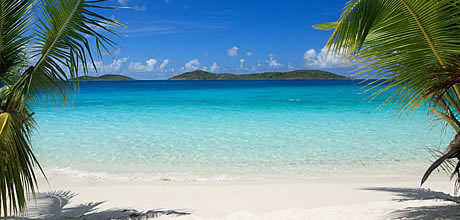 The sunshine paradise of the Caribbean regularly tops the lists of holidaymakers across the globe. It's not hard to see why – travellers flying to the Caribbean find a location packed with gorgeous scenery, clear blue seas, dazzling beaches, sumptuous cuisine and an energetic nightlife. The diverse history of each of the region's islands also offers a plethora of cultural attractions for sightseers.
Antigua
Holidaymakers wanting to hop on a flight to Antigua will discover a large island filled with luxurious beaches, ruins and historic buildings. It is said that it is near impossible to find a crowded beach on the island – making Antigua an attractive destination for those who like to sunbathe in peace.
Barbados
This island is one of the most popular holiday destinations in the Caribbean and for those flying to Barbados the reasons are obvious. As well as the usual sandy beaches and glittering waters characteristic of the region, Barbados and its capital, Bridgetown, boast a wide array of festivals, watersports, restaurants and bars. Old links to the UK are plain to see in some of the island's architecture and the area also offers excellent facilities for shopaholics.
Beef Island
Travellers heading to the British Virgin Islands often find that they end up on a flight to Beef Island. This peninsula is the location of the region's main airport and offers a handy base from which to explore Tortola, the largest island in the area. Tortola is home to some spectacular scenery and an endless list of things to see and do. The shop-filled delights of Main Street and the cooler climes of Sage Mountain National Park are just two of the attractions of this sunny paradise.
Freeport
The second largest city in the Bahamas, Freeport is known as a city for gamblers. Holidaymakers flying to Freeport at Grand Bahama will be able to try their luck and skill on the slot machines or at the gaming tables and spend whatever they win in one of its numerous shops and bazaars. The city also features some stunning beaches and tempting restaurants.
Grenada
Travellers catching a flight to Grenada will discover what is believed to be one of the most beautiful tropical paradises in the world. The island enjoys a vista of bright beaches, sparkling seas and lush rainforests. Its capital, St George, offers plenty of things to see and do, including historic attractions and extensive shopping amenities. Grenada's complex British and French history shines through in its place names and architecture - a dream destination for culture vultures everywhere.
Havana
Cuba's capital city is steeped in history and has often been a source of much fascination for tourists. Hop on a flight to Havana and you will find a plethora of colonial buildings and palaces in the square mile known as Old Havana, while the newer parts of the city offer modern amenities such as shopping and gambling. The Chinatown district, the La Cabana fortress and the world-famous Tropicana Club are just a few of the many attractions of this wonderful city.
Holguin
Step on a flight to Holguin in Cuba and discover a city ripe for exploration. Its main attraction is perhaps the Hill of the Cross, which consists of a huge staircase comprising 458 steps, topped by a large crucifix. The city is also similar to Cuban capital Havana in that it is home to numerous buildings harking back to Spanish colonial times.
Kingston
The Jamaican capital offers a wide array of entertainment, cultural attractions, bars, restaurants and more. Travellers planning to grab a flight to Kingston should probably try the Bob Marley Museum, Kingston Craft Market and Hope Botanical Gardens. In addition, the diverse mix of people from various countries, including China, Saudi Arabia and India, makes for a melting pot of fantastic food and drink.
La Romana
Holidaymakers intending to make their way to the Casa de Campo resort in the Dominican Republic must first catch a flight to La Romana. However, the city itself provides plenty of recreation for visitors, with a number of its own resorts, hotels and beaches, as well as a bustling city centre.
Montego Bay
Watersports lovers would do well to fly to Montego Bay. This Jamaican city is host to the huge Montego Bay Marine Park, which offers an array of activities including underwater diving, snorkelling and more. The destination also boasts a variety of shops and the famous Doctor's Cave Beach with its sparkling blue waters.
Puerto Plata
This province in the Dominican Republic has soared in popularity among holidaymakers in recent years, thanks to its picturesque beaches and humbling mountain views. Step on a flight to Puerto Plata and enjoy its fine architecture, shops and beautiful gardens – the perfect location for a relaxing break.
San Juan
Catch a flight to San Juan and discover a wealth of history to explore. Beautiful buildings nestle alongside luxurious beaches, with some structures dating back to the 16th century. Art lovers will find much to admire in this popular Puerto Rican destination's galleries and museums, while party animals will be able to enjoy a host of lively bars, restaurants and clubs.
St Kitts
This tiny nation is big on offering tourists a wide range of things to see and do. Holidaymakers grabbing a flight to St Kitts will be able to enjoy high-quality watersports, shopping, golf and festivals against a lush green backdrop of tropical rainforests and flower gardens. Its twin island, Nevis, offers similar attractions at a gentler pace - perfect for all the family.
St Lucia
This exotic island is a paradise of golden beaches, sumptuous food and busy bars. While couples tend to fly to St Lucia for their honeymoon, the island is also popular with those looking for the right balance of quiet relaxation and lively nightlife. Its French heritage is plain to see in buildings, cuisine and names, offering a Gallic twist on the usual Caribbean destinations, while holidaymakers can also bathe in soothing volcanic waters.
Tobago
Travellers looking for one of the Caribbean's quieter places to visit should catch a flight to Tobago. Trinidad's sister island boasts relaxing beaches and stunning vistas, with visitors able to glimpse majestic waterfalls and rivers. Tobago is particularly attractive to those who enjoy a spot of windsurfing or fishing, as well as to birdwatchers – the island is rich with exotic species of flying beasts, including many of the rarer kinds.
Varadero
Holidaymakers who hop on a flight to Varadero tend to gravitate towards its many resort areas. However, the Cuban town also offers much in the way of sandy beaches, stunning natural wonders and buildings of historical importance. Travellers will find a wealth of things to see and do, and perhaps use the town as a base from which to explore other regions of the country.