Cheap Flights to Turkey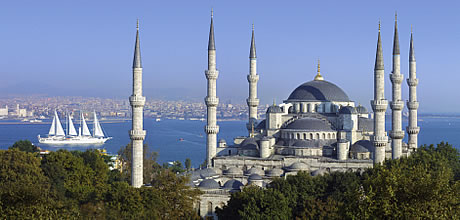 Book a flight to Turkey and relax in the comfortable climate. Surrounded by the Black Sea, the Mediterranean and the Aegean Sea, there are many holiday destinations with direct flights to choose from.
Antalya
With crystal clear waters and the sandy beaches of Konyaalti and Lara, Antalya is a great destination when booking your flights to Turkey. Luxury hotel accommodation and a number of attractions including archaeological ruins, plus activities from swimming to skiing in the mountains makes Antalya a popular holiday destination.
Bodrum
Book a flight to Turkey's tourism capital, most famous for one of the Seven Wonders of the World, the Mausoleum. Destroyed by earthquakes, the stones were used to build Bodrum Castle, where tourists may visit the museum of underwater archeology. Bodrum town is lined with restaurants, bars and shops that offer visitors plenty of entertainment for both the night and day.
Dalaman
Book your flights to Turkey, Dalaman the gateway airport to the major resorts including Marmaris, Olu Deniz, Icmeler, Turunc and Fetihye. Turkey is a great place to visit with Turks being very friendly, hospitable and welcoming to visitors and with great weather, beaches and plenty to do and see
Istanbul
Book a flight to Turkeys largest city Istanbul. The only city in the world built on two continents. Istanbul has a number of fascinating bazaars and shops, plus many attractions to visit including Topkapi Palace, Hagia Sophia, the Blue Mosque.
Izmir
Izmir a 5000 year-old city is one of the oldest cities of the Mediterranean. Search for flights to Turkey and visit modern Izmir, which also incorporates world-famous ancient cities like Ephesus, Pergamon, and Sardis.