Cheap Flights to The Canary Islands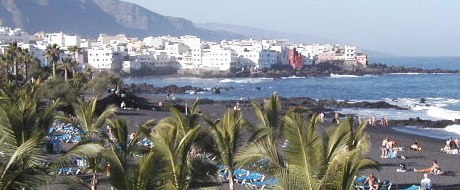 Book a flight to The Canary Islands, the most popular of the European holiday resorts. Situated of the west coast of Africa, The Canary Islands offer year round sunshine and are perfect for families and the clubbing generation alike.
Fuerteventura
Fuerteventura's busiest holiday resort has been built up around the town of Caleta de Fuste, also known as Castillo, about six miles south of the island's airport. Fuerteventura is the second biggest of the Spanish islands, after Tenerife, and has the longest beaches in the archipelago. The island is a paradise for sun, beaches and watersports enthusiasts. The island is widely believed to be the oldest of the Canary Islands. Its strange form was created out of a series of volcanic eruptions many thousands of years ago.
Gran Canaria
Gran Canaria as its name suggests is the largest of the Canary Islands. Famed for year round sun Gran Canaria is a popular destination for tourists, especially for holidaymakers with children and clubbers alike who book flights to Spain for long weekend breaks and parties? Playa del Ingles is the largest and liveliest resort on the island. Maspalomas, Puerto Rico and San Augustin are all popular resorts on Gran Canaria.
Lanzarote
A cheap flight to Spain, Lanzarote is the most northern of the Canary Islands situated in the North Atlantic, gateway to resorts such as Playa Blanca, Puerto del Carmen, Costa Teguise and Matagorda. A popular choice with holiday makers, Lanzarote has plenty to offer. Its climate ranges from mild to hot climates. Its daytime temperature in the summer is between 30°C and 35°C and the nightime temperature is at 20°C.
Santa Cruz De La Palma
Santa Cruz De La Palma is the capital of the Canary Islands and is located on the east coast. The Canary Islands are Spain's tropical paradise, visited by thousands of tourists who search for cheap flights to Spain to visit this resort all year round.
Tenerife
Book your flights to Spain! Tenerife is a lively, fun place that is perfect for families with children and the clubbing generation alike. With almost year round sun and low annual rainfall, it is the perfect place to escape the British weather. Be sure to venture out of the resort as Tenerife has plenty to offer!