Santa Cruz De La Palma Cheapest Fares
To search and book flights to Santa Cruz De La Palma in 2021 and 2022, please enter your requirements and click the search button above.
The carnival comes to Santa Cruz de La Palma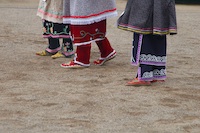 The Carnival of Santa Cruz de La Palma is one of the largest celebrations on the island. It takes place in February and the main aim of it is to pay homage to the immigrant native Indians.The carnival started in the 1960s and has developed a lot since that time although it has not lost any of its original passion and meaning. It was during this time that a large number of immigrants came to La Palma to find work.
A large number of visitors come to the Canary Islands for the festival with each town in La Palma celebrating in its own way. Santa Cruz de La Palma is particularly unique with its talcum powder battles. There is a parade, Los Indianos, in which the women wear white gowns and the men either don white suits or dress up as women.
The white clothing signifies the Palmero immigrants who came to this destination, grew rich and returned home wearing white and panama hats. The slaves are represented by men painted black. Everyone involved ends of getting covered with talcum powder and visitors are warned to bring a disposable camera. Large plastic cartons of the powder can be procured for free from a destination close to the harbour.
There is another parade in which the majority of people wear massive heads and occasionally stilts. There is also a wide array of floats, street musicians and krewes. The streets are decorated with red embroidered cloth, including the town hall, making it a spectacular event.