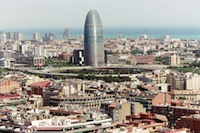 Book cheap flights to Spain by selecting an airport destination in Spain below. Compare flights to Spain from over a hundred airlines worldwide and book online with us today.
Spain is situated at the heart of western Europe and has enchanted tourists for generations. A rich tapestry of landscapes, architecture, and cultures, Spain can offer much to all who visit. Whether you wish to visit the high class shopping districts of its capital, Madrid, or take in the marvellous beaches at the coast, Spain will not disappoint.
Many overseas tourists to Spain will head straight to the coast for a holiday filled with sun, sea, and sand. Some of these resorts can become very crowded during the high season. Stepping outside of these resorts can reward the more adventurous traveller with a more traditional Spanish experience.
Fans of food and drink will be well looked after in Spain. Traditional Spanish dishes such as paella taste so much better in their natural surroundings amongst friends on a terrace on a balmy evening, especially when washed down with a glass of freshly prepared sangria. Tapas restaurants make an event of the evening meal, with the discussions punctuated with small courses of food.
Perhaps unsurprisingly for a country that provides such a party atmosphere, there are a number of weird and wacky festivals that run each year. The Pamplona Bull Run is a seven day festival held in early July and involves people attempting to outrun a rampaging bull. Valencia plays host to "La Tomatina," the world's largest tomato throwing festival each August. Thousands of over-ripe tomatoes are tossed around by revellers in what is billed as the world's biggest food fight.