Pamplona Cheapest Fares
To search and book flights to Pamplona in 2020 and 2021, please enter your requirements and click the search button above.
Pamplona Prepares for the Festival of San Fermin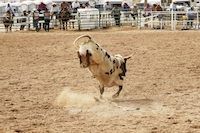 The details of the annual San Fermin Festival in the destination of Pamplona have been released, confirming the order of events and routes to be used during this year's festivities.
The celebrations, which commemorate the Feast Day and the life of San Fermin, the beheaded co-patron of Navarre, will stretch over a week from midday on the 6th July until midnight of the 14th July.
The Chupinazo ceremony marks the opening and local inhabitants and tourists, wearing the mandatory red and white clothing, will take to the streets waiting for the mayor to give his permission for the donning of special ceremonial red scarves. A bell is the signal for the scarves to be waved above the head before being tied around the neck and worn for the duration of the festival.
Partying and the drinking of Sangria, singing and dancing then commences, with the running of the bulls taking place at 8.00 the following morning and every morning thereafter for the duration of the festival. A firecracker announces the release of six bulls from their pen and they run down a half-mile stretch of the old streets of Pamplona, following hundreds of people to their final destination in the arena where they will be sacrificed at that evening's corrida.
Many consider the running of the bulls to be the main event but in fact there are a host of other traditional activities like the daily Giants and Big Heads parade, and the bullfights, or corridas. The final ceremony ends with a candlelight procession to the church, the singing of Pobre de Mí, and a fireworks display.