Belfast Cheapest Fares
The lowest fare found to Belfast (BFS) was £53 with EasyJet. The fares shown here are the lowest flight prices to Belfast obtained in actual searches by Just The Flight customers. To search and book flights to Belfast in 2021 and 2022, please enter your requirements and click the search button above.
Walk Near the Titanic in Belfast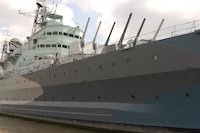 Belfast's Lagan Boat Company built the ill-fated RMS Titanic between 1909 and 1911, and it was the most magnificent ship of its day when launched on May 31st, 1911. The shipyards (now Harland & Wolff Shipyards) are now open to walking tours, and if you are a history enthusiast, ship enthusiast, or a fan of the film, this must be visited during a trip to Belfast. The tour includes the shipyards; the slipways, dock and pump house, as well as an extremely well designed Visitor Centre with the requisite café and gift shop. Tours begin at 11am and 2pm daily, and include the SS Nomadic, the last remaining ship of the White Star line.
After a break for a rest and light snack, the walking tour will continue on to the dock and pump-house. Definitely bring a camera for this, although no picture will convey the sheer size of the vessel that left this dry dock. It has been preserved as it was in 1911 when it released the Titanic to the ocean that would eventually claim her. The walking tour takes approximately two hours, plus an additional half hour for the stop in the middle, and covers about two miles (three kilometres), so should not be undertaken by those with difficulty walking. Knowing the eventual fate of the ship and its passengers makes this a particularly poignant tour of the last piece of land that touched the 'unsinkable' ship.