Campbeltown Cheapest Fares
To search and book flights to Campbeltown in 2022 and 2023, please enter your requirements and click the search button above.
MokFest/ the Mull of Kintyre Festival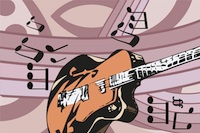 Since 1993, the very best of Scottish and international music has been showcased over a fun-packed weekend every August, in the Argyll capital destination of Campbeltown.
Campbeltown is the third largest in Argyll and the largest town in the peninsula of Kintyre, only 140 miles by road from Glasgow, and just 14 miles from Northern Ireland across the Irish Sea.
The world-famous Celtic Music and Arts festival, Mull of Kintyre or Mokfest is considered to be one of Europe's leading contemporary music festivals and attracts thousands of Celtic music lovers from across the United Kingdom and Europe. Visitors enjoy hundreds of music concerts and art events which take place at various Campbeltown venues, including the Heritage Centre and Victoria Hall, over the course of a weekend.
The festival culminates on the Sunday night with the Festival Ceilidh which strives, and succeeds, to celebrate and honour the Celtic heritage by featuring traditional Celtic pipe bands, dancing, ceilidh bands, and Celtic choirs. Popular Celtic bands and musicians such as The Fergie MacDonald Band and Jamie Smith's Mabon from Wales, widely regarded by Celtic music lovers as one of the most exciting bands to emerge on the scene for many years, also play at the festival.
The festival has lots of action for young and old with street parades and a festival club, fringe and tuition events, and plenty of street entertainment. The standard Scottish beer tent sits happily alongside traditional ceilidh workshops and there is a themed parade through the streets every year.