Islay Cheapest Fares
To search and book flights to Islay in 2020 and 2021, please enter your requirements and click the search button above.
Islay, the home of eco-friendly tourism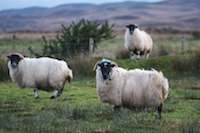 Located off the west coast of Scotland and just 25 miles from the coast of Ireland, Islay is a hugely popular destination for birdwatchers and wildlife enthusiasts, thanks in large part to its population of Barnacle Geese. The autumn months and early October in particular, serve as high season for enthusiasts hoping to catch a glimpse of a wide variety of bird species. However, the island is well worth a visit at almost any time of the year, thanks to its historic and scenic villages, including Port Charlotte and Port Ellen; it is also the centre for a range of eco-tours.
One of the factors that makes Islay popular among visitors from both Scotland and the rest of Britain is its relatively mild climate, with almost no snow in the winter months and rarely any instances of frost. Islay's windswept coasts are majestic, pristine and often desolate, offering hikers a unique holiday off the beaten tracks, yet not too far from home.
One of the island's most popular areas is The Oa, a small, rocky region featuring waterfalls and a large population of Golden Eagles and Corncrackers. Much of The Oa enjoys special protected area designation in order to safeguard wildlife and the natural habitat. On a clear day, sharp-eyed visitors may be lucky enough to catch a glimpse of Ireland. The Oa is situated along the south western tip of Islay and the best way to reach it is by hiring a car from Port Charlotte.