Just the Flight's Guide to Madrid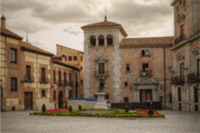 Every week there are literally hundreds of flights to Madrid, the cosmopolitan capital city of Spain, which is located in the heart of the peninsula, in the centre of the Castillian plain. The city can trace its roots back to Emir Mohamed I, who ordered a fortress to be built on the site. Today, the Spanish capital has a population of over 3 million people and is a business centre, headquarters for the Spanish Parliament and home to the Spanish Royal Family.
Madrid may not have the immediate allure of Paris or Rome, but it does have some amazing art galleries, an abundance of fine restaurants and tapas bars, an exceptional live music scene and a relentless nightlife.
The climate is one of extremes, with freezing winters and scorching summers, the hottest months being July and August. In winter the temperatures can frequently drop below freezing, especially in January and February, but spring and autumn are pleasant. In reality there is no bad time to visit the city. For flights to Madrid check our available bookings to find the best deal. A number of budget airlines such as EasyJet regularly offer cheap flights to Madrid.
The Prado Museum, located on the stylish Paseo del Prado, is just one of three museums that form the city's 'Golden Art Triangle.' The museum has a number of masterpieces by famous artists such as El Greco, Goya, Durer and others. The other two museums are the Thyssen-Bornemisza Museum, considered to have one of the best private collections in the world and the Reina Sofia, which is home to modern art including Picasso's Guernica.
The Royal Palace is one of the largest palaces in Europe with over 200 luxuriously decorated rooms, 50 of which are open to the public. Other places that are well worth visiting are the Parque Del Buen Retiro, the most popular park in Madrid, with a lake and several museums; the Gran Via, famous for its many grand buildings and the Plaza Mayor, the most famous square in the city, which is surrounded by beautiful red brick arcades. Atocha station, which was the first railway station to be built in Spain, makes for an interesting visit. It was expanded in 1985 and the train tracks were moved to the new terminal, the old one being turned into a rest area and tropical garden.
The busiest nights in Madrid are Friday and Saturday, but the locals go out every night and are still able to study and work the next day. Perhaps their secret is the tradition of consuming tapas, snacks of olives, anchovies, gambas, (deep-fried shrimps) and for the more adventurous bull's testicles and snails in hot sauce. After a long night partying, it is customary to breakfast on sweet fried churros and hot chocolate. The nightlife centres on three districts, Chueca with its trendy restaurants, Calle Huertas for traditional Spanish music, jazz clubs and bars and Malasana with its bars and clubs that are mainly frequented by the young crowd. It is worth remembering that many venues close during the month of August.
Madrid has been home to a number of cultural icons, including Salvador Dali, Luis Bunuel and Frederico Garcia Lorca. Most hotels will book theatre or museum tickets for guests, but it is usually cheaper to book directly at the venue. Madrid has an opera house and a number of theatres presenting both Spanish classics and 20th century plays. Dance is also well represented, including Flamenco. The locals love to go to the cinema; there are a number to be found close to the city centre, some of which show English language films.
Madrid's cuisine is influenced by other regions of Spain, but it still has some dishes that are synonymous with the capital. Its most famous is Cocido Madrileno, a stew made with chickpeas and vegetables. Visitors should also try to sample the Sopa de Ajo (garlic soup) and one of the many tripe dishes. Desserts are also big in Madrid with a firm favourite being torrijas, which is similar to bread and butter pudding.
There are a number of shopping areas, depending on what you are looking for. The smartest shopping district, which is home to top designer names such as Versace, Hugo Boss and Armani, is Salamanca, while another trendy area is Chueca. Go in January or February to find bargains in the sales. For the budget conscious, Madrid's famous flea market is held around Ribera de Curtidores and there are also some more unusual shops stocking religious and devotional objects, Spanish guitars and colourful costumes and accessories.