Cheap Flights to Almeria (LEI) from UK Airports
Book flights to Almeria
Almeria Cheapest Fares
The lowest fare found to Almeria (LEI) was £100 with EasyJet. The fares shown here are the lowest flight prices to Almeria obtained in actual searches by Just The Flight customers. To search and book flights to Almeria in 2022 and 2023, please enter your requirements and click the search button above.
Almeria, Spain's Unspoilt Holiday Destination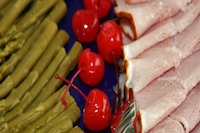 Almeria, in Spain, is an unspoilt area of natural beauty with quiet fishing villages dotted along nearly 200 miles of sandy beaches and secluded coves. It is said to be Western Europe's sunniest and warmest destination. The centre of Almeria city is lively with cafes, a marina, sports centres and hotels to suit everyone, all overlooked by the old Alcazaba Castle. There are several parks in the town, where you can watch Western themed shows, hire a horse or have a drink in the saloon bar. The Peurta de Purchena area is popular for its local cuisine, with tapas and fish dishes.
Almeria hosts several celebrations throughout the year, including its own local festival in August, la Virgen del Mar. This ten-day long holiday is held in honour of its patron saint, the Lady of the Sea and her statue is decorated with flowers before being taken by boat from the lighthouse to the pier on the last Saturday of the celebrations. Visitors are encouraged to sample the local cuisine in the centre of town, before the evening's celebrations get started at the fairground. Among the activities to be enjoyed are dance, music, cookery competitions and horse shows. Famous singers from around the region perform to large crowds and some of Spain's top matadors compete at the bullfighting festival. Visitors to this great destination should be certain to browse the traditional pottery on sale on the Paseo de Almeria. The celebrations have been designated as a Fiesta of International Tourist Interest.
Cheap Flights
The best prices our customer have found to Almeria in the last 7 days
EasyJet
Almeria
£100

Iberia
Almeria
£146

British Airways
Almeria
£220

Jet2
Almeria
£256

Direct Flights
The cheapest direct flights to Almeria our customers have found in the last 7 days
EasyJet
Almeria
£100

Jet2
Almeria
£256