Seville Cheapest Fares
The lowest fare found to Seville (SVQ) was £51 with EasyJet. The fares shown here are the lowest flight prices to Seville obtained in actual searches by Just The Flight customers. To search and book flights to Seville in 2022 and 2023, please enter your requirements and click the search button above.
Fiesta time in Seville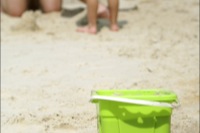 The Seville April Fair, known locally as Feria de abril de Sevilla, is one of the most popular events in all of Spain. Every April, the popular tourist destination of Seville is host to a week-long party that attracts more than one million people!
The fair officially opens on Monday night at midnight and builds to a crescendo on the Sunday night. Each day begins with a vast parade of carriages and riders that carry Seville's leading citizens and VIPs to their destination of La Real Maestranzam; Seville's bullring, where bullfighters and breeders meet. These fairs are the best of the season and this traditional Spanish pastime needs to be witnessed for the full impact to be realised.
The fair sits near the Guadalquivir River. The river bank itself is lined with individually decorated marquees that belong to local groups and prominent families. This piece of land is known as Real de la Feria. The tents are home to nightly flamenco dancing and music and each tent provides its own unique atmosphere and tradition. Each one needs to be explored to be believed!
It's not just the night times that make this the attractive destination it is, the day time is dominated by equestrian events that run through the fairground and envelop the city. The parades are accompanied by strolling singers playing enchanting Sevilliana ballads on their Spanish guitars.
Seville in the spring is certainly a worthy destination of any traveller seeking an Andalusian treat.