La Coruna Cheapest Fares
To search and book flights to La Coruna in 2020 and 2021, please enter your requirements and click the search button above.
La Coruna is a beach junkie's paradise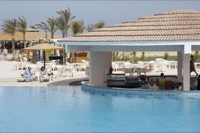 La Coruna, often known as Corunna to British tourists, is a wonderful and popular city in the Galicia region of Spain which blends contemporary and smart with historic and cultural. It would win no prizes for size, being only the 17th largest city in the country, however, if there were a prize for sporting the most beautiful beaches, there is no doubt that this popular holiday destination would be a strong contender, if not the winner.
Famed for its vast stretches of glistening sandy beaches and boasting more than 2,000 hours of sunshine a year and a blissfully warm climate tempered to comfortable levels by its next door neighbour, the Atlantic Ocean, La Coruna is a magnet for both beach-loving tourists and water-sport loving athletes.
Its two most popular beaches are Playa del Orzan and Playa del Riazor, both of which run alongside La Coruna's impressive ten-kilometre long promenade – one of the longest in continental Europe. They sit in the Orzan Bay, which is separated from the city's main shipping port and marina by the headland it is tucked behind. These two stunningly beautiful, idyllic hot spots are located in the very heart of this holiday destination, making access to them a doddle.
When visiting Orzan, do not miss Domus Museum and Casa del Hombre (the House of Man) if you enjoy a little intellectual culture on your travels. There are also an array of aqua sporting opportunities on offer, not limited scuba diving, sailing and surfing. Other beaches you might want to visit during your stay include Adormideras, Las Lapas, Matadero, Oza, San Amaro and San Roque.