Holguin Cheapest Fares
To search and book flights to Holguin in 2022 and 2023, please enter your requirements and click the search button above.
Holguin, a city of beautiful beaches and rich culture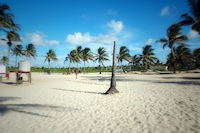 Holguin, the capital city of the Cuban province of the same name, is a destination best known for its stunning beaches. Its other major claim to famous is that Columbus arrived there in 1492 and was supposedly taken aback by its beauty.
Many visit Holguin, however, for the stunning sands. There are 41 beaches in total and a number of high class resorts. The best way to explore the coral reef, which stretches out over 900 metres, is by snorkelling or scuba diving over it. Alternatively, travellers also have the opportunity to swim with dolphins.
A boat trip can provide a different perspective of this destination and will also take visitors to Cayo Saetia Island. Here it is possible to take a ride on a jeep safari in order to spot the wildlife which includes zebras. Alternatively, a climb up Cruz Hill, which consists of 458 steps, provides amazing panoramas of the city.
Holguin is also known for its array of beautiful parks. Visitors can lose themselves in the network of narrow alleyways which can be found in the old regions of the city. The Museum of History is a good way of gaining a deeper understanding of the city's history. San Jose Church, built in the early 19th century, and San Isidoro Cathedral, which dates back to the 1700s, also provide a glimpse into the region's past.
As well as its rich cultural past, the squares are a perfect place to relax after exploring the city. This destination also offers a wide array of restaurants serving traditional dishes and bars and clubs for an evening's entertainment.