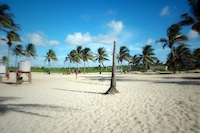 Book cheap flights to Cuba by selecting an airport destination in Cuba below. Compare flights to Cuba from over a hundred airlines worldwide and book online with us today.
The Republic of Cuba is a socialist state in the Caribbean although has become increasingly open to visitors and tourists, and is turning to a market economy. The state is composed of several islands including the main island, Cuba, the Isla de la Juventud, and several smaller groups of islands. Cuba's capital is Havana. The state of Cuba is located to the south of the United States and the Bahamas, to the east of Mexico and north of the Cayman Islands and Jamaica. Haiti and the Dominican Republic are also located close by.
Cuba was one of the islands discovered by Christopher Columbus and was initially claimed by Spain until the Spanish-American war of 1898, although did not gain recognised independence until 1902. Cuba has a population of 11 million people, making it the most populous island nation in the Caribbean area. It is a multicultural island with influences from various aboriginal cultures as well as from Spanish colonialism and from African slave influences. José Martí International Airport, previously known as El Rancho Boyeros International Airport, is located roughly nine miles outside of the capital, Havana. The move to a market economy has made the average Cuban far more welcoming to visitors and the main tourist attractions include the pristine beaches in Cuba, the unique Latin music, and the general ambiance of historical cities such as Havana.