Beef Island Cheapest Fares
To search and book flights to Beef Island in 2022 and 2023, please enter your requirements and click the search button above.
Land of sandy beaches, National Parks and historic ruins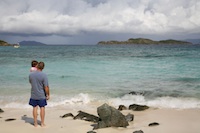 Tortola is at the very heart of the British Virgin Islands and the largest of this tiny Caribbean country's string of islands. Located in the West Indies, Tortola has long been a popular holiday destination with tourists looking for white powdery beaches to relax on, warm clear water to swim in or sail on and also impressive historic sites and a major national park to explore.
The Sage Mountain National Park, which is one of the most interesting in the entire West Indies, preserves clear traces of the primeval rainforest that once covered the entire island. The park is open all year round and from the top of a mountain ridge offers some of the best views across the surrounding countryside and Beef Islands.
The J.R. O'Neil Botanical Gardens offer an equally fascinating journey into the world of rainforests and exotic vegetation. One of the highlights of the park is a special pavilion, which is almost entirely dedicated to various different types of fern. It also features a myriad of pathways, lined with local plants and vegetation, along with are a number of stone fountains.
Transport in Tortola and around the Beef Islands is a memorable experience in its own right. Visitors have two options, the first being a combination of ferries to commute from one island to another, during which they can enjoy breathtaking Caribbean scenery along the way. The second and more rapid form of transport is offered by a handful of local aviation companies that operate short air commutes, with bird's eye views of the coast.