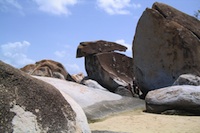 Book cheap flights to Virgin Islands British by selecting an airport destination in Virgin Islands British below. Compare flights to Virgin Islands British from over a hundred airlines worldwide and book online with us today.
The British Virgin Islands lie east of Puerto Rico in the Caribbean Sea. They are comprised of four main islands (Tortola, Anegada, Virgin Gorda and Jost Van Dyke) and many smaller cays and islands. The islands' capital, Road Town, is on the island of Tortola and has a population of about 18,000 people.
Road Town is the major city in the British Virgin Islands.
The main airport is Terrance B. Lettsome International Airport, located just off eastern Portola on Beef Island. Anegada and Virgin Gorda have their own small airports, but for international travel, Beef Island Airport, as it's also known, is the major point of entry.
Small turboprop planes are often used for transport between the islands, and there is also a ferry service available. On the islands themselves, it is easy to get around by bus, taxi, or car.
Tourists can visit one of the areas many national parks. One example is Sage Mountain National Park, in Tortola, which is a must-see destination. Located on 92 acres and with Sage Mountain at its centre, you can experience the tropical rain forest up close, as they once appeared everywhere. Other destinations, like Virgin Gorda's Baths, are also unique. These natural pools and grottoes of granite are flooded with seawater, and provide the perfect place to snorkel, sunbathe and explore.
Tourism is one of two major industries in Islands, the second of which is financial services.