St Thomas Island Cheapest Fares
To search and book flights to St Thomas Island in 2020 and 2021, please enter your requirements and click the search button above.
Carnival Time on St Thomas Island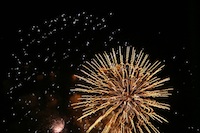 Each year in the Virgin Islands, thousands of locals and tourists descend on St Thomas Island for the famous Virgin Islands Carnival. A spectacular and colourful celebration, it has been voted one of the top ten carnivals in the world by USA Today and is an incredible time to visit this destination.
One of the biggest festivities in the Caribbean, the Carnival is infused with the cultural variety that exists in the island itself and makes it such a special place. A fusion of African, European and other influences is visible in the elaborate costumes, food, crafts and many other aspects of the festival. Visitors can enjoy taking this in whilst exploring everything that the island has to offer.
The atmosphere created by this massive celebration is truly extraordinary, and cannot fail to be a remarkable experience for any visitor. Calypso music, fireworks displays and the sumptuous aroma of delicious traditional foods come together each year to create a melting pot of sensory delights. The parades and processions are an endless riot of bright colours and costumes, and make for a sight that definitely should not be missed.
St Thomas Island itself is easily reached from the United States, with regular flights from major cities all over the country to the local airport, Cyril E King. From these cities, onward connections are available to international destinations worldwide. This festival a perfect trip for anyone looking for a real party weekend in a fascinating culture