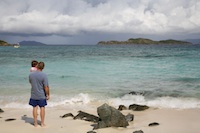 Book cheap flights to Virgin Islands US by selecting an airport destination in Virgin Islands US below. Compare flights to Virgin Islands US from over a hundred airlines worldwide and book online with us today.
The US Virgin Islands are comprised of three major islands: St. Croix, St. Thomas, and St. John, as well as the smaller Water Island, and other more minute islands also. They are all part of the Virgin Islands' Archipelago, immediately west of the British Virgin Islands and about 64 km east of Puerto Rico, in the Atlantic Ocean and Caribbean Sea.
Charlotte Amalie on St. Thomas is the territory's capital, although St. Croix is the largest island. Henry E. Rohlsen International Airport services St. Croix, while Cyril E. King Airport services St. John and St. Thomas.
Cars, ferry service, and open air cabs known as 'safaris' provide the ideal way to get around on the Islands easily.
Beaches abound throughout the US Virgin Islands, and this is perhaps what we think of most when we think of the US Virgin Islands. In addition, there is a busy nightlife as well. Charlotte Amalie on St. Thomas plays modern host to fine restaurants and every amenity tourists would expect. Beyond that, there are other fun and interesting things to do, like visiting Blackbeard's Castle on St. John, scuba diving in Christiansted, St. Croix, or going snorkelling, kayaking, hiking, windsurfing, or sailing in the Virgin Islands National Park.
The US Virgin Islands' major industry is tourism, with 80% of its business coming from tourism. Manufacturing is also a big part of the Islands' industry.