Cheap Flights to Grenada (GND) from UK Airports
Book flights to Grenada
Grenada Cheapest Fares
The lowest fare found to Grenada (GND) was £473 with British Airways. The fares shown here are the lowest flight prices to Grenada obtained in actual searches by Just The Flight customers. To search and book flights to Grenada in 2022 and 2023, please enter your requirements and click the search button above.
Grenada Sailing Festival Attracts Tourists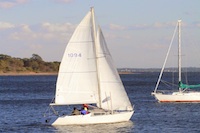 The Camper & Nicholsons Port Louis Marina will once again serve as the home port for the Grenada Sailing Festival this coming year. The event takes place at the end of January each year, attracting boat racing enthusiasts from destinations all around the world to this small Caribbean island. The festival has grown in recent years, with the 2011 event spanning two week ends to provide several days of race related activities.
The races are based out of the island's new facility at the Port Louis Marina. They include both of the popular courses from past years and new routes to keep the sailing challenges fresh. International keel boats attend from the United States and several destinations in Europe, including the UK. Competing against them are local yacht crews based in Grenada and the greater Caribbean area. For even more racing action, tourists can stay over until the first weekend in February, which features a work boat regatta at Grand Anse Beach.
Sailing events form the backbone of the festival but evening activities focus on a round of parties and get-togethers where visitors and locals relax and mingle at venues such as the True Blue Bay Resort & Marina and the Dodgy Dock. Tourists may even have the opportunity to meet their favourite skippers and crews at these events. Steel pan drum performances, arts and crafts, cultural dances, native songs and games for the entire family will all be available at the new Heritage Village.
Cheap Flights
The best prices our customer have found to Grenada in the last 7 days
British Airways
Grenada
£473

Virgin
Grenada
£585

American Airlines
Grenada
£680

Aer Lingus
Grenada
£781

Air Canada
Grenada
£902

Direct Flights
The cheapest direct flights to Grenada our customers have found in the last 7 days
British Airways
Grenada
£473