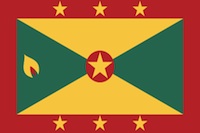 Book cheap flights to Grenada by selecting an airport destination in Grenada below. Compare flights to Grenada from over a hundred airlines worldwide and book online with us today.
Travellers looking for a tropical escape, away from mainstream tourist traps could not do better than the picturesque paradise of Grenada. These beautiful islands, north of Trinidad and Tobago promise a warm welcome to all travellers to this Caribbean resort.
Flights land in Point Salines International Airport, in the north-eastern part of the main island of Grenada. From there take a bus or taxi to discover the local towns and villages and enjoy some traditional hospitality in the many bars, cafes, and restaurants or take a tour to sample local delights at the Grenada chocolate factory.
Explore the narrow, winding lanes in the charming capital city of St George's admiring the crafts in boutique shops and sampling fresh seafood in the local restaurants. Alternatively, visit the gorgeous Grand Etang National Park for a range of well-planned excursions from a gentle stroll along the shores of the Grand Etang lake to a demanding hike up to the Seven Sisters waterfalls.
Energetic water sports fans can enjoy windsurfing, water-skiing, and scuba diving off the stunning coastlines, keeping a keen eye out for dolphins and whales. For a quieter break relaxing by the beach or wandering across the countryside, hop on a ferry to the other two islands of Grenada: sleepy Carriacou or the tiny Petit Martinique.
Grenada, the 'spice isle' is famous for its exports including nutmeg and mace as well as cinnamon, cloves and vanilla. Grenada's main industry is now tourism, offering visitors a wealth of comfortable hotels, exciting leisure activities and many interesting eco-tourist centres.