Queenstown Cheapest Fares
To search and book flights to Queenstown in 2022 and 2023, please enter your requirements and click the search button above.
Winter Festival is a highlight of Queenstown calendar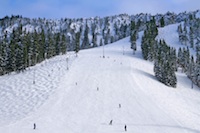 Queenstown, which is located in the southwest of New Zealand, is a lively resort town and thriving tourist destination. It is a major winter sports centre attracting visitors from around the globe and offers a number of locations for skiing and snowboarding, along with many other adventure sports. During Winterfest the city sees up to 60,000 people flocking in to experience this amazing celebration of winter.
A ten day festival, which is usually held towards the end of June, Winterfest offers a huge variety of sports, entertainment and attractions for all the family. Beginning with a spectacular firework display, followed by a huge party, the festival gets off to a great start and continues to thrill throughout the period it is taking place.
There is ongoing entertainment available for anyone involved in exciting winter sports of for bystanders who prefer to simply spectate or soak up the atmosphere. Unlikely sounding sports, such as snow mountain biking and Frisbee golf, join dodge ball, skiing and snowboarding, while there are also spectator sports, such as ice hockey, boxing and football. Daytime and nighttime entertainment include live bands, masquerade balls, workshops, film screenings and stand-up comedy. Parades and competitions add to the carnival atmosphere and there is always a great variety of food and drink available to all.
Whether partygoers prefer to stay in town, spend their time on the slopes or a mixture of both, Winterfest provides non-stop entertainment, activities and an enthusiastic party atmosphere. If you can be in Queenstown at this time of year you are unlikely to be disappointed.