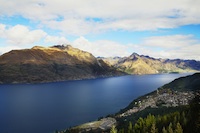 Book cheap flights to New Zealand by selecting an airport destination in New Zealand below. Compare flights to New Zealand from over a hundred airlines worldwide and book online with us today.
New Zealand – known as Aotearoa ('Land of the Long White Cloud') to the indigenous Maoris, who have been there over 1000 years – was the last major land mass to be discovered, and the British organised the first major colonial settlement there in 1840.
These stunning volcanic islands are situated in the Pacific Ocean, south-east of Australia, and have a population of around 4.3 million. Most inhabitants of the country – known officially as New Zealanders, or commonly, as Kiwis – live on two main islands, which are simply named the North Island and South Island, although numerous smaller islands also contribute to New Zealand's geography.
New Zealand has a mild, sunny climate, with most areas of the country receiving at least 2000 hours of sunshine a year. Summer falls between December and February, so visit at this time if you enjoy warmer temperatures.
This country's capital is the vibrant city of Wellington, on the South Island, and home to Wellington International Airport, but you could also land at Auckland Airport, since New Zealand's largest city is the popular tourist destination of Auckland, on the North Island. The country's industry heavily relies on exports, with agriculture, fishing, forestry, horticulture, and mining being its principal trades.
New Zealand is littered with breathtaking sights: vast ranges of impressive mountains and steaming volcanoes, luscious rainforests and glistening coastlines. The country is a haven of tranquillity, with one of the world's most laid-back , friendly cultures. Don't be surprised if a Maori stops in the street to sing to you! Its also the place to go if you're into the more exhilarating of outdoor pursuits. New Zealand: there's something for everyone.