Napier-Hastings Cheapest Fares
To search and book flights to Napier-Hastings in 2020 and 2021, please enter your requirements and click the search button above.
The Horse of the Year Show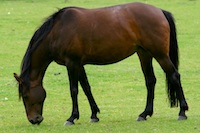 Every year in March over 70,000 New Zealanders and international equestrian lovers head to Hawkes Bay A&P Showground in Hastings, New Zealand, the destination of the annual New Zealand Horse of the Year Show which is unquestionably one of the biggest sporting events held in the southern hemisphere.
This lustrous event takes place over 28 areas and attracts over 2500 horse and rider combinations from all equestrian disciplines who attend to compete in 19 events in what is without doubt a phenomenal display and true celebration of the equestrian art. Competitions and show classes include, show jumping, eventing, dressage, mounted games, endurance, polocrosse, and an array of international breed classes to name just a few. With an annual budget of over $3million, and $1million spent on the infrastructure alone, this is without doubt one of the most prestigious and must-be-seen events on the New Zealand sporting calendar.
One of the shows, the Bell Tea Olympic Cup, attracts world-class course designers to build the arena for Trans Tasman Test and which features four-strong teams from Australia and New Zealand who battle it out for top honours during the Silver Fern Stakes. This class, with a prize purse of $50,000, is the second richest of the show with a prize and is featured part of the HB Today Friday Night Extravaganza.
It is the Hawke's Bay destination, right at the heart of the Hastings food and wine region, which benefits greatly from hosting the show, with a purported $11.52 million spent in the area and at the event itself over the six days.