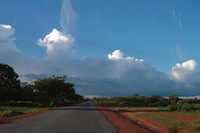 Book cheap flights to Guinea-Bissau by selecting an airport destination in Guinea-Bissau below. Compare flights to Guinea-Bissau from over a hundred airlines worldwide and book online with us today.
Guinea-Bissau is one of the smallest countries in Africa but is also one of the friendliest. Visitors are sure of a warm welcome to this relaxed and charming country and will find the local people genuinely happy to help travellers make the most of their trip.
Arrive at the international airport on the outskirts of the capital city of Bissau and take time to see the sights in this centrally located town. Visit the Portuguese quarter to enjoy an espresso or meal and then purchase local crafts or souvenirs in the Centro Artistico Juvenil shopping centre.
There is an annual carnival in early spring to provide a wonderful experience of the Creole culture, music and dance. For the more adventurous traveller, take a bush taxi to the northern Varela region for stunning views and forest walks.
The tropical climate means the weather is warm throughout the year allowing visitors to enjoy the clear blue water and white sandy beaches on the Arquipélago dos Bijagós, a group of islands just off the coast. There are also a wealth of rivers and rainforests where you can see exotic wildlife including elephants and chimpanzees.
Guinea-Bissauans have made the most of their coastal situation to develop a thriving fishing industry. Guinea-Bissau is also a major exporter of nuts and is one of the highest ranked cashew producers in the world so drop into a bar or restaurant to enjoy the local speciality, cashew wine, together with tasty meals and snacks that have been prepared using delicious fresh produce.