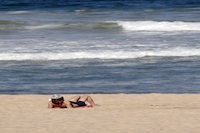 Book cheap flights to Comoros by selecting an airport destination in Comoros below. Compare flights to Comoros from over a hundred airlines worldwide and book online with us today.
The Comoros Islands are located in Southern Africa and are a group of islands that lie at the northern mouth of the Mozambique Channel. The country is situated between northern Madagascar and northern Mozambique and has 340kms of coastline. The climate in Comoros is tropical marine and the rainy season covers the months of November to May. The main international airport serving the Comoros Islands is Prince Said Ibrahim International Airport, located in the capital, Moroni. This is also the largest town in the Comoros Islands and is situated close to Mount Karthala, a notoriously active volcano. Moroni is an extremely popular tourist destination due to the fabulous sandy beaches and hot, balmy weather.
Other areas of interest to tourists include the spectacular mountain scenery, excellent fishing conditions and the wonderful unspoilt beaches, which are to be found around all the islands. Though the Comoros' tourism industry is still in its infancy, it is growing steadily and more and more visitors are making the trip every year.
The majority of the workforce on the islands are employed in agriculture, which brings a large percentage of the total revenue to the economy. The industry produces crops such as vanilla, cloves, ylang-ylang, copra, coconuts, tapioca and bananas. The Comoros Islands export these commodities to Turkey, Singapore, France, Saudi Arabia, Italy and Algeria. Much of the Comoros Islands' foodstuffs, particularly the population's staple diet of rice, is imported from countries such as France, China, Pakistan, Kenya and India.