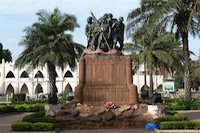 Book cheap flights to Mali by selecting an airport destination in Mali below. Compare flights to Mali from over a hundred airlines worldwide and book online with us today.
Mali is a landlocked country in Western Africa with a population of around 14.5 million people. It is home to the famed and historic city of Timbuktu, which is its main tourist attraction.
Bamako is the country's capital and is regarded as one of the world's fastest-growing cities. Situated in the south-west of the country on the Niger river, it has plenty to see, including museums, zoos, gardens and a mosque. It also is home to the main international airport, Bamako-Sénou International Airport, with mostly local connections but also occasionally servicing Barcelona and Lisbon in Europe.
A tremendous historical city, Timbuktu is now a World Heritage site and has become more accustomed to tourist activity, especially now that it has its own airport. You can hire a camel and a guide to explore its history and visit museums and other artefacts that form the country's history. There are also some fabulous views of the desert to be seen while in some of these buildings. Another recommended area to visit is Dogon Country in the south of Mali. This is home to hundreds of small villages that display distinctive architecture and a fascinating way of life. Accommodation is also available in some of the villages.
Agriculture is Mali's main source of income, mainly with the export of cotton, but also of some of Mali's natural reserves such as gold, uranium and salt. Around 80% of Mali's workers are employed in agriculture.