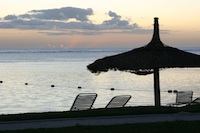 Book cheap flights to Mauritius by selecting an airport destination in Mauritius below. Compare flights to Mauritius from over a hundred airlines worldwide and book online with us today.
Mauritius is a small, glistening jewel in the vast, warm seas of the Indian Ocean, about 900 kilometres to the east of Madagascar. This African island relies heavily on tourism as one of its main industries, and is home to just under 1.3 million people. Its small population is no reflection on the fascinating cultural diversity the country has to offer.
Fly into Sir Seewoosagur Ramgoolam International Airport (also known as Plaisance International), located about 48 kilometres from Port Louis, the capital city of this African treasure – and also Africa's wealthiest city. Take a walk around Chinatown, get caught up in the hustle and bustle of Port Louis' streets, and observe the capital's elegant, Colonial buildings, before leaving for the wider pastures of this idyllic island.
This unique country – famed home to the now-extinct dodo – is an absolute must-visit destination for anybody whose idea of the perfect holiday is to indulge themselves in luxurious, white sandy beaches, flawless landscapes, awe-inspiring mountains and lush forests. Oh, and worry not: if sipping a cocktail on the beach by the turquoise ocean, whilst sunbathing in the tropical sunshine does not, by itself, conjure up a full picture of Heaven in your mind, you'll be spoilt for choice when looking for other things to do in Mauritius.
From strolling around its vibrant local markets, to wandering through its exotic Botanical Gardens; from dining in its exquisite restaurants, to frolicking in its unforgettable Waterpark; from taking a peek at some of the world's rarest species of wildlife, to exploring some of its ancient, historical ruins – there is absolutely no danger of becoming bored on this blissful island of paradise.