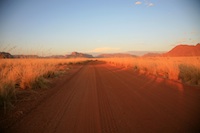 Book cheap flights to Namibia by selecting an airport destination in Namibia below. Compare flights to Namibia from over a hundred airlines worldwide and book online with us today.
Sitting on the south coast of Africa, Namibia is a strikingly beautiful country, bordering Angola, Zambia, Botswana and South Africa, with a coastline rippled by the vast sapphire waters of the great Atlantic Ocean. It is one of the youngest countries in Africa, and as its official language is English, when visiting this sought after destination there is no need to worry about making conversation with the locals!
Boasting a population of only around two million, much of the landscape of this spectacular country is devoted to vast plains of burnt orange desert sands, pricked with awe-inspiring dunes (including the world's highest sand dunes, in Namib National Park), and bathed in sizzling sunshine.
Namibia's main industry is mining; it is Africa's fourth-largest exporter of non-fuel minerals, and the fifth-largest producer of uranium in the world.
When visiting this African wonderland, you will land in Windhoek Hosea Kutako International Airport, housed by Namibia's capital city, Windhoek. Situated in the Central Highlands sitting in the very heart of the country, Windhoek is an exciting, bustling city with clean air, friendly people and a pleasant climate, but to really experience this country's authentic qualities, you will need to explore further afield.
You will no doubt find yourself wishing you'd booked a sabbatical, as you will struggle to squeeze all the wonders Namibia has to offer into one holiday. With exotic wildlife, sweeping coasts, out-of-this-world desert views, soaring mountain ranges, ancient cities, and diverse, fascinating culture, you will never run out of things to do in this once-in-a-lifetime holiday destination.