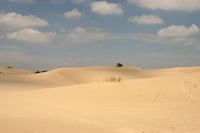 Book cheap flights to Niger by selecting an airport destination in Niger below. Compare flights to Niger from over a hundred airlines worldwide and book online with us today.
Niger is a large, landlocked country in Western Africa, sharing borders with Algeria, Libya, Chad, Benin, Nigeria, Mali and Burkina Faso. It is a largely arid country, with over 80% of its terrain being filled with a vast expanse of sandy Sahara desert, and overall, it is almost twice the size of Texas.
Sitting on the Niger River in the south-west of Niger is its relatively modern capital city, Niamey. This is the first you will see of this vast, exotic country, once you have landed at Diori Hamani International Airport. Before leaving to explore the awe-inspiring wonders of rural Niger, you may like to admire the impressive architecture, traditional markets, and beautiful mosques, to name but a few attractions this city has to offer.
This magnificent nation, in the heart of Africa, relies on subsistence crops and livestock as its main industries. It is populated by around 16 million predominantly Islamic citizens, who mainly inhabit the southern and western areas of the country to escape the blistering desert temperatures.
Although perhaps not an ideal living location for many, the Sahara desert boasts some of the world's most incredible, awe-inspiring sights, and is a must-see place to visit when holidaying in the subtropical land of Niger. The Aïr Mountains, for instance, rise like glorious beasts out of the dusty landscape, and cannot fail to impress even the most seasoned travellers. Here you can see incredible examples of Niger's famed Neolithic rock art, dating all the way back to 6000BC, and feel as though you are on a different planet, as you trek across the landscapes that are like no other you have seen on Earth.