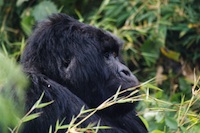 Book cheap flights to Rwanda by selecting an airport destination in Rwanda below. Compare flights to Rwanda from over a hundred airlines worldwide and book online with us today.
Rwanda offers some of the world's finest rainforests that are home to mountain gorillas and vibrant wildlife. The country, which neighbours Uganda and Tanzania, offers an authentic and unspoilt African experience.
Visitors can fly into the capital of Kigali, which has the Kigali International Airport and there are numerous domestic airports dotted around the country.
Often associated with the terrible genocide, this nation now offers warmth and beauty. However, the Kigali Memorial Centre pays tribute to those who were lost in the 1994 genocide and is a significant contribution to recording and remembering the historic atrocity.
Escaping the city, you will find a plethora of wild forests, deep lakes and beautiful beaches. Rare bird species including Papyrus Gonolek, can be found in the Nyabarongo wetlands, while elephants, buffalos and giraffes can be spotted at Parc National de l'Akagera. One of the best spots to see mountain gorillas is the Parc National des Volcans.
To the west of the country lies Lake Kivu, Africa's sixth largest lake which lies on the border with the Democratic Republic of the Congo. The lake is lined with beautiful, unspoilt beaches and provides a peaceful getaway.
Today, Rwanda is still a poor country and about 90% of the population earn their living and survive by agriculture. Coffee, tea, bananas and beans are all produced in the country, as well as stockl farming. This rural country is the perfect place to visit if you want to see some of the world's most exotic wildlife and really get away from it all.