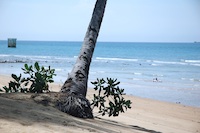 Book cheap flights to Sierra Leone by selecting an airport destination in Sierra Leone below. Compare flights to Sierra Leone from over a hundred airlines worldwide and book online with us today.
The west African country of Sierra Leone is a country that has changed immeasurably since it was torn apart by civil war in the 1990s. After peace was declared in 2002, the country began its road to recovery, and now travellers are starting to discover the rich tapestry of scenery and culture that Sierra Leone can offer.
Sierra Leone has some of the most perfect, palm-lined beaches on the continent, with waters that provide a great environment for swimmers, snorkelers, and surfers alike. Fans of nature and wildlife spotting will not want to miss the chance to visit the Outamba-Kilimi National Park. Adventurous travellers may wish to venture into the provinces of Sierra Leone where the rich cultural heritage of the country can be discovered.
The capital city of Freetown is located on the west coast of Sierra Leone and is built around one of the world's largest natural deep-water harbours. The city takes its name from the freed American slaves that were transported to Sierra Leone in 1792 and is served by Lungi International Airport. Freetown is full of landmarks that link the legacy and history of freed slaves, West Indians, African Americans, and West Africans. One of the most important and famous landmarks is the Cotton Tree, the symbol of the christening of Freetown. The beaches of Freetown play host to regular parties and festivals.