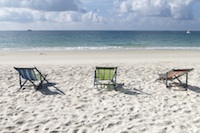 Book cheap flights to Somalia by selecting an airport destination in Somalia below. Compare flights to Somalia from over a hundred airlines worldwide and book online with us today.
Often in the news for the wrong reasons, Somalia does have some attractions that can give tourists cause to be interested. Few know that Somalia is actually split into three distinct territories: Somalia, Puntland, and Somaliland. Whilst Somalia and Puntland remain largely dangerous and unwelcoming places to visit, Somaliland is open for business. Possessing both the peace and stability that its two neighbours lack, it is doing well.
Situated on the east coast of Africa, Somaliland has beautiful beaches with pristine white sands and waters that have proved incredibly popular with divers. Adventurous travellers will be well rewarded by visiting this country, with terrain that begs to be hiked and mountains that will test the hardiest climbers.
Somaliland's capital, Hargeisa, has been described as one of Africa's safest and welcomes western tourists with open arms. This is a poor country and is well aware that attracting tourists is a great way to increase its all important economy. Despite the scarcity of tourists, the city has many of the conveniences that a foreign traveller will expect, from quality hotels with English speaking staff to great restaurants and internet cafes. Hardy explorers will be treated to a city that is alive, optimistic, and buzzing with possibilities. Hargeisa a is served by Hargeisa International Airport, which operates routes to and from other destinations within Africa and the Middle East.