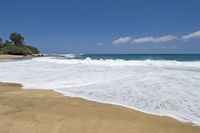 Book cheap flights to Kiribati by selecting an airport destination in Kiribati below. Compare flights to Kiribati from over a hundred airlines worldwide and book online with us today.
Kiribati is composed of a group of islands, found in the Micronesian area of the Pacific Ocean. It is located on the International Date Line, which makes it the first place to experience the New Year. It is a remote location that does not have as much heavy visitor traffic as many other locations in the Pacific.
The capital is Tarawa, which is located on an atoll found within the island group. Another island with a village that is nearby is Abaing. There are several other villages found on various islands. London is the main village on Christmas Island.
Bonriki International Airport is located in the country's capital. Regular flights originating from Brisbane in Australia and Nadi in Fiji arrive at the airport. A smaller airport is located on Christmas Island, and many of the islands have airstrips.
People who visit Kiribati will find that the country has a lot to offer in the way of natural attractions, and they will also be able to experience traditional Micronesian hospitality. On the island of Abaing, visitors are greeted with a traditional welcoming ceremony. There are beautiful beaches on this island, with good snorkelling sites. You can also arrange tours to see some of the local tropical birds. Christmas Island is another good place for water sports, including scuba diving. It also includes several ideal fishing locations.
Fishing is the main industry that provides the country with income. It has very few natural resources. Tourism also accounts for a small part of its income.