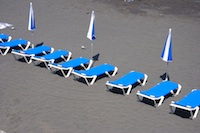 Book cheap flights to New Caledonia by selecting an airport destination in New Caledonia below. Compare flights to New Caledonia from over a hundred airlines worldwide and book online with us today.
New Caledonia, or Nouvelle-Calédonie to the locals, is a self-governing territory of the country of France, sitting in the Pacific Ocean, some 1,200 kilometres east of the country of Australia. The territory is made up of one main island – Grand Terre – and several smaller islands, and is home to around 250,000 people. Its total land area spans over a relatively compact 18.5 square kilometres (in comparison, the UK is roughly 12.5 times larger).
This French-speaking nation enjoys a tropical climate all year round, with blisteringly beautiful summers and lusciously warm winters. It is a major source of nickel, and accounts for around 10% of the world's known nickel supply – quite impressive for a handful of small islands!
Once you've flown into La Tontouta International airport, you may want to travel the 50km to visit New Caledonia's buzzing cosmopolitan capital city, Nouméa, situated on the southern peninsula of the main island. This city is said to be the most 'westernised' of all Pacific island cities, and also boasts the title of having more sunshine hours than any other city in the Pacific islands. Take your pick from Nouméa's wide array of quirky boutiques and gourmet restaurants, take a wander around Chinatown, and enjoy the fact that this exciting, culturally-rich city is utterly untouched by tourism.
Outside of Nouméa, you might want to explore New Caledonia's rugged, beautiful landscapes, boasting impressive mountain ranges, lush waterfalls, idyllic beaches, and the world's largest coral lagoon. In simple terms, New Caledonia is paradise.