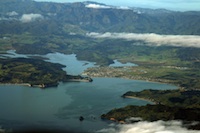 Book cheap flights to Papua New Guinea by selecting an airport destination in Papua New Guinea below. Compare flights to Papua New Guinea from over a hundred airlines worldwide and book online with us today.
Just north of Australia, Papua New Guinea is one of the world's most culturally diverse countries with more than 820 different languages. Wet and mountainous, visitors will be blessed with superb scenery and nature at its best.
Visitors can fly straight into the capital, Port Moresby, which is just 8km away from the country's main airport - Jackson's International Airport. The modern capital is a far cry from how so many people live in this country, with tribes living as they have for thousands of years among nature's wild elements.
There are many organised treks to rural areas of the country where you can submerge yourself in local culture with traditional songs and dances that are a part of daily tribal life. Keep an eye out for the many festivals and carnival-like Highlands Shows. Even cricket is a game of singing, dancing and has a magical feel here. Watching a live game of Trobriand cricket is a great way to see Papua New Guinea as it really is.
Getting off the beaten track is very easy to do in Papua New Guinea. Head to the rainforest area of Lae to see tree kangaroos, birdlife and turtles, and check out the rumbling string of volcanoes in New Britain.
There are also some great diving opportunities at Milne Bay and some truly splendid beaches on offer.
Papua New Guinea has a great deal of natural resources, but the varied and rugged terrain has made it hard to make the most of them. Agriculture provides a livelihood for 85% of the population while mineral deposits, including copper, gold, and oil, account for nearly two-thirds of export earnings.